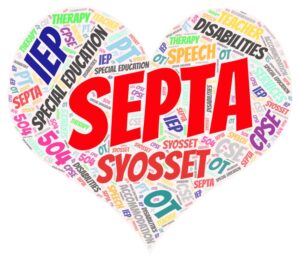 What is Syosset SEPTA?
Syosset SEPTA is the Special Education Parent Teacher Association that serves Syosset School District's children with disabilities, as well as their families.
Our meetings and our membership are open to all parents regardless of whether your child is receiving special education services. We are a resource of people who are available to help parents and children by providing support, education, and advocacy.
To help our members stay informed about valuable resources, legislation, and relevant local events, we send out an email called SEPTA Connection.
All emails sent out by SEPTA are sent "blind" and we NEVER share our email list with other persons or organizations. It remains strictly confidential. If you would like to receive emails, please provide us with your email address.
We encourage all parents to support our unit by becoming members. Your support allows us to provide excellent programs and scholarships for special education students.
Questions? Contact:  Danielle Sandjaby or Erica Schulman.