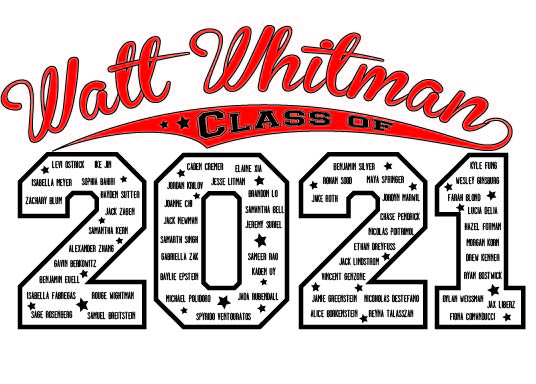 Yearbook 2021
We have begun production on the yearbook for the Walt Whitman Class of 2021, and we need everyone's help to fill the pages with beautiful pictures of our children throughout the years!
We have begun production on the yearbook for the Walt Whitman Class of 2021, and we need everyone's help to fill the pages with beautiful pictures of our children throughout the years!
We ask that you kindly submit your photos by Friday, January 8th.
Our dedicated website is https://waltwhitman.shutterfly.com/. Please note that all users must be invited and/or approved in order to gain access to the site and keep our photos secure.
If you have any questions, please contact Melissa Forman at melissa.kishel@gmail.com, Jennifer Poitrimol at jenpo3012@gmail.com, Lucille Polidoro at teacher2174@aol.com or Bailey Springer at bspringer4477@gmail.com.
PHOTOS NEEDED (Up to 25 photos per person – 1 baby face photo, up to 23 candids and 1 strike a pose photo – see below):
1. "Baby Faces" (1 photo)
Please submit a picture of your 5th grader at 1-3 years of age to be included in our Baby Faces section.
2. Candids & Virtual Learning Photos (Up to 23 photos)
Please submit up to 23 photos, spanning your children's WW years. Please note that these 23 photos can include photos of the children during their virtual learning (field day 2020, thank you teacher messages from last year, etc.). Solo shots are good; group shots are GREAT (fellow 5th graders only, please)! Examples include pictures from class trips, class parties, field day, PTA events like the Fall Festival, Fun Fair, etc. (Important: Please understand that aside from virtual learning pictures, all candid photos can only be photos taken on Walt Whitman School grounds and/or at PTA-sponsored events (no photos from birthday parties, sleepovers, etc.) Additionally, please make sure there are no other people in the photos for those taken during virtual learning.)
3."Strike a Pose" photo (1 photo)
Please take a fun, spirited picture of your 5th grader. They can be featured with any items or clothing that are special to them, i.e. holding a basketball, wearing their uniform while they're on the field, a shot from dance in their dance outfit, etc. Please make sure their face is straight on to the camera so that they are easily recognizable.
PHOTO SUBMISSION INSTRUCTIONS:
You will upload your photos to the Shutterfly/LifeTouch website. The website is secure and only our 5th grade parents who register via the email link we sent or submit a request for access through the website will be able to upload/view the pictures. (The yearbook committee are the only people who can approve this request.)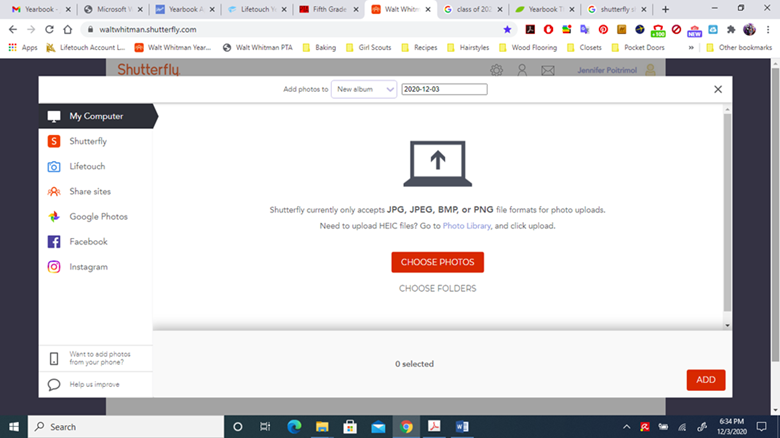 To submit photos, go to https://waltwhitman.shutterfly.com/. The center of the page will show an area to upload photos. When you click on add photos, the following screen appears and you can choose individual photos from your computer. At the top, it says "add photos to", "New Album". The date automatically appears as the title of the new album – PLEASE CHANGE THE DATE TO YOUR CHILD'S FULL NAME. This will ensure we are not missing any of their photos.
If you already have an account with shutterfly, log in using your email address and password; otherwise, it will ask you to create a new account.
If you did not receive an email from shutterfly granting access, you can go to the website and request approval for access. We will then approve any requests we receive (it is not immediate – you need to give us time to approve the requests).
Image Requirements:
Images must be in JPG, JPEG, BMP, or PNG format.
When uploading your files to the website, please put your child's first and last name in lieu of the date that shows in the album (at the top of the area where you upload your photos).
PLEASE NOTE: Only high resolution photo files can be used in the yearbook. Please make sure you upload ORIGINAL IMAGE PHOTOS. Please do not rely on taking photos from social media (iPhoto, Facebook, SnapChat, Instagram, etc.) as they often will not have the required resolution level for printing.
** Please note that not every picture will be used in the yearbook. We are limited in space by a set number of pages. We will strive to feature all students in a comparable number of pictures. **